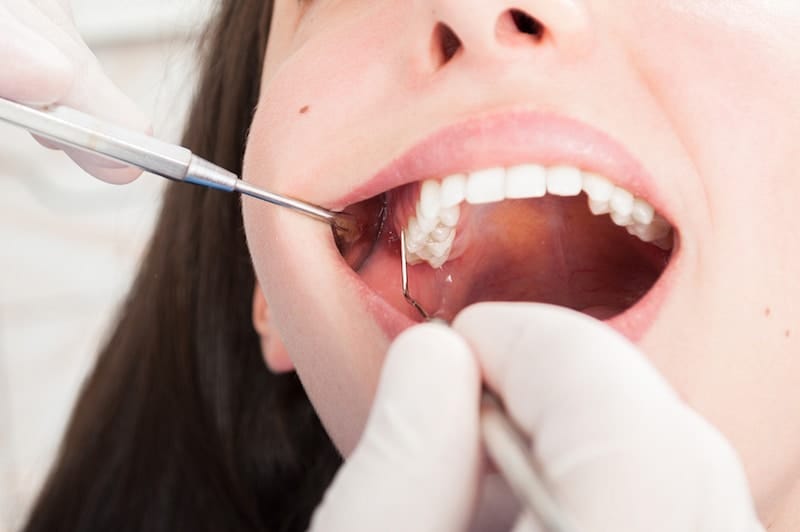 At Flawless Smile Dentistry, we perform an oral cancer screening at each patient's twice yearly dental checkups. An oral cancer screening is an examination to look for signs of cancer or precancerous conditions in your mouth. Like many other cancers, oral or pharyngeal cancer is treatable and often curable if found early. So, if you're due for a dental checkup, please schedule a visit with Claremore, OK, dentist Dr. Ali Torabi for a thorough examination that includes an oral cancer screening.
What are the early warning signs of oral cancer?
While Dr. Torabi and his team will take all the time necessary during one of your checkups to thoroughly examine for oral cancer, we want you to know what the early warning signs are, too, so you can be on the lookout for them during the time between your dental checkups. Signs and symptoms that may be indicative of oral or pharyngeal cancer include:
A bleeding sore in your mouth or on your lips that will not heal
A lump or thickening of any soft tissue
A lingering sore throat
A white or red patch that is smooth or scaly
Difficulty chewing or swallowing
Pain in your neck or jaw
A spot in your mouth that feels numb
An earache but no infection
Dentures that no longer fit well
What happens during an oral cancer screening?
When you come to Flawless Smile Dentistry, we'll conduct a comprehensive oral cancer screening that looks for those early warning signs inside your mouth, on your lips, and around your neck and jaw. First, we'll look at your face, neck, jaw and lips to detect any abnormalities, swelling or facial asymmetry. We'll conduct an intraoral examination, looking inside your cheeks and lips, at your tongue, under your tongue and on the roof of your mouth. With a piece of gauze, we'll pull out your tongue to examine all sides. Then, we'll have you say "ah" so we can see down your throat.
If we find a problem area, then there are two types of tests that can be performed. A brush biopsy can detect the disease even before there are overt signs, and a scalpel biopsy, which samples a small piece of suspicious looking tissue.
Call for an oral cancer screening today
To schedule a dental cleaning and exam that includes what may be a lifesaving oral cancer screening, call the office of Dr. Torabi, the dentist Claremore, OK, trusts for complete dental health care.