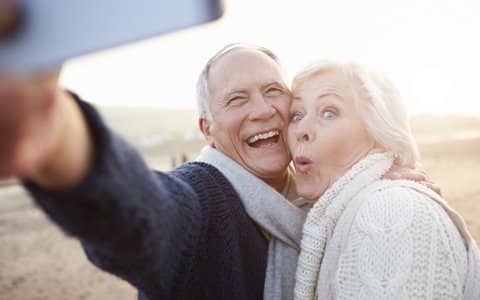 Missing teeth can make life a little harder than it needs to be. You might have trouble going out to eat with friends. Chewing your favorite foods can be almost impossible. Smiling in front of people can make you self-conscious of any gaps in your smile. You want to fix the way your mouth looks, but sometimes it seems like there are too many options out there, from prosthetic bridges to removable dentures. It can be hard to figure out which treatment is best for you. Although they each have their own set of pros and cons, the choice with the greatest number of clear benefits is dental implants.
What Are Dental Implants?
Most people don't know that teeth have two parts: the crown, or the top part you can see, and the root, the bottom part inside the gums that is connected to your jawbone. Dental implants are metal posts that replace the root as well as the crown.
Once surgically attached, the implant fuses to your jawbone, just like the root of your tooth. It then stimulates your jawbone through chewing and biting in the same way your tooth would. This is important because if your jawbone is not stimulated, it can deteriorate and give your face a sunken appearance.
Traditional prosthetics like dentures just sat on top of the gumline, providing no jawbone stimulation. With modern implants, you get to save your jawbone, your chewing and talking abilities, and your smile!
How Does the Dental Implant Process Work?
Your implant dentist will examine your mouth to determine your individual situation and exactly what treatment you need. Then the team will surgically place one or more implants directly into your jawbone, depending on how many teeth you need to replace.
The implants are made of biocompatible material, meaning that they will gradually fuse with your natural bone tissue. Because of this, they can last for many years or even for the rest of your life. The implants are lightweight, durable, and long-lasting.
After you have fully healed, you will return to your dentist to figure out which restoration will go over your implant. There are several options, such as:
Porcelain crowns
Custom dental bridges
Fixed dentures
What Are the Advantages of Dental Implants?
Many patients struggle to choose between dentures and implants when it comes to replacing missing teeth. While dentures may be cheaper, implants offer a wide variety of valuable benefits that make them a much better investment. These include:
Improved appearance. Implants look and feel like real teeth. No one will be able to tell the difference unless you tell them.
Easier speech. Loose dentures can slip around in your mouth, making you mumble or slur your words.
More comfort. Removable dentures can sit uncomfortably in the mouth. Implants are designed to feel like your natural teeth, so most of the time you won't even remember they're there.
Easier eating. When dentures slide around, it can make chewing difficult and awkward. Implants function like your own teeth, allowing you to eat your favorite foods with no problem.
Durability. Implants are designed to last for years and years, if not the rest of your life. Dentures will likely need to be replaced every few years.
Convenience. You don't have to remove your implants every night like you would with dentures. Once your treatment is done, you can treat them just like a normal tooth. This means regular brushing, flossing, and checkups!
Stimulation of jawbone. Dental implants are the only tooth replacement that stimulates your jawbone to keep it healthy and strong. When your jawbone isn't stimulated, it loses density, which can make you look older. With dental implants, you can look younger for longer.
With all the treatment options out there, it's easy to get confused as to which one is best for you. However, dental implants are the most beneficial. If you have missing teeth, consider this state-of-the-art service to help restore your smile!
About the Practice
At Flawless Smile Dentistry in Claremore, OK, Dr. Ali Torabi and Dr. David Chun are dedicated to helping you rebuild your beautiful smile. They both have advanced certifications in implant dentistry, such as the use of BioHorizons for implants and Imtec for miniature implants. They are here to help your smile reach its full potential. Click here to contact them and here to schedule an appointment.