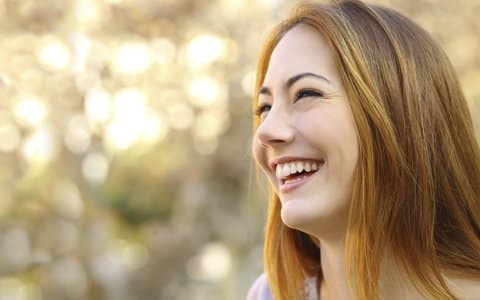 An increasingly popular choice for adults and older teens, Invisalign in Claremore OK is the invisible, comfortable alternative to metal braces. If you think clear braces are the best choice for correcting your orthodontic issues, we could not agree more — and most patients are great candidates for Invisalign. But how does Invisalign work? What are the differences between Invisalign and traditional braces? And is Invisalign right for you? Dr. Ali Torabi has the answers to these and other questions below.
How Does Invisalign Straighten Teeth?
Just like with traditional braces, Invisalign works by placing focused pressure on certain parts of the teeth throughout treatment. The main difference? Invisalign shifts the position of teeth using clear plastic aligners rather than metal brackets and wires. The aligners are manufactured according to your custom treatment plan, and the series of trays is sent directly to you. You can begin treatment immediately. Wear each tray for two weeks before advancing to the next in the system, with periodic visits to the dentist to make sure everything is progressing as it should. The average Invisalign treatment lasts one year.
How Does Invisalign Compare to Traditional Braces?
The differences between Invisalign and traditional braces are significant.
Removable: While traditional braces are affixed to the teeth, you can easily slip the Invisalign trays out before meals or to brush and floss. Just make sure you wear the trays for 20-22 hours each day. With Invisalign, you don't have to modify your diet or worry about your dental health suffering as a result of your orthodontic treatment.

Convenient: Invisalign treatment requires fewer visits to the dentist, and is often completed more quickly than would be possible with traditional braces. Emergency appointments for a loose bracket or wire are never needed with Invisalign.

Comfortable: Smooth plastic trays don't rub the blisters often associated with traditional braces. Discomfort related to Invisalign is usually mild soreness, the result of the teeth moving into the proper position.
Most adults and older teens prefer the ease, comfort, and near-invisibility of the Invisalign treatment.
Am I a Good Candidate for Invisalign?
The majority of candidates who wish to straighten their teeth with the Invisalign system are well-suited for the treatment. Invisalign corrects the most common orthodontic issues, including gapped teeth, crowded teeth, as well as crossbite, overbite, and underbite.
Patients will undergo a checkup and cleaning before the Invisalign treatment. Gum disease and cavities should be treated before or alongside Invisalign.
Invisalign in Claremore: Go For It!
Contact your dentist in Claremore OK to discuss Invisalign! It's the most popular choice for adults looking to improve the alignment of their teeth for a smile that looks and functions better than ever. Request your appointment today!