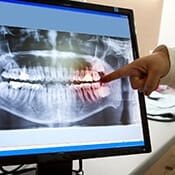 If you have recently been told that you need a root canal, the first feeling you may experience is a thought of dread. For years, root canals have been well known for causing significant pain and discomfort. However, now the discomfort from root canals is just a distant memory. Thanks to many advancements in dentistry, undergoing a root canal is now no worse than a typical dental filling. These advancements make the entire procedure more comfortable when compared to root canals performed in the past. At Flawless Smile Dentistry, Dr. Torabi using the best dentistry has to offer when performing a root canal in Claremore.

What is a Root Canal?
A root canal is a procedure used to remove infection and damage from the inside of a tooth. When serious decay has occurred, which extends beyond the enamel and dentin, the pulp of the tooth becomes inflamed and infected. When left untreated, the tooth will continue to decay, while the infection spreads to surrounding teeth. To prevent additional damage, the decay and infection must be removed. This involves removing the pulp from the tooth. After the pulp and decay have been removed, the tooth is then sterilized and sealed. A custom-made crown is placed over the tooth to restore the tooth's health and function.
In the past, you would need to visit your dentist in Claremore multiple times to undergo the entire process. Now, you only require one appointment and you will have very minimal discomfort.
Advancements in Root Canals
One of the leading reasons people have come to fear root canals is due to pain. However, now root canals are virtually painless. In the past, stainless steel files were used to clean out the root canals. Now, nickel titanium files are used, which are more flexible to minimize discomfort. In addition, the use of new local anesthetics makes it easier to numb the entire tooth so you will not feel a thing. Some dentists, like Dr. Torabi, also offer the use of sedation, allowing you to sleep through the entire procedure.
After we have prepared your tooth, we will fill the canal with a biologically-insert substances to seal the tooth from further infection. Then, using CEREC technology, we will provide you with your custom-made restoration in less than an hour. In the past, you would have to use impressions, which were sent to an off-site lab. You would be required to wear a temporary crown for about two weeks while waiting for your permanent crown to be made. Now, you don't require impressions or a temporary crown. Using 3D images and CAD/CAM technology, we will mill your restoration in-office in about an hour.
Your Dentist for Gentle Root Canals
Dr. Torabi strives to provide patients with complete, comfortable care. Using the best advancements in dentistry, procedures like root canals are virtually pain-free. You will benefit from high-quality results to protect your beautiful smile.
If you are in need of a root canal, contact Dr. Torabi at Flawless Smile Dentistry for comfortable care.