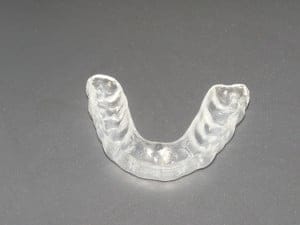 So you consider yourself a pretty loud snorer, huh? If only you were the only one. There are tons of people who suffer from this condition. It isn't just the snorer that suffers, though. Think about your partner and how this is affecting them. When you snore, you're not just keeping yourself awake, but your significant other as well. Your snoring may be a sign of sleep apnea that has lied dormant for years now. Sleep apnea can lead to all sorts of problems at home or at the office. Who likes being exhausted all day and unproductive? We certainly don't. We have jobs to do! If your snoring is becoming a problem, we can help you with a snore guard. Our Claremore, OK office has what you're looking for as far as treatment is concerned. Don't bother with nasal strips or other products that supposedly claim they can solve snoring issues. We're experts on sleep apnea, and we want you to get the treatment you deserve. Maybe you don't have sleep apnea and are just a naturally loud snorer, but that will be up to Dr. Torabi to decide. He's the dentist Claremore residents can trust to get them sleeping soundly once again.

A Snore guard Can Ease Your Snoring Habits
It's simple science: when your airway is blocked it has to get out somehow. A snore guard can help alleviate the problem. What we have to figure out first is how severe your sleep apnea is (if you have it at all). From there, it's a matter of deciding which treatment you'll benefit from most. If you'd rather not opt for surgery and have a less-severe case of sleep apnea than other patients, a snore guard may be just what the doctor ordered, literally.
After taking tests to see if you are a sleep apnea sufferer, snore guards may be the best treatment method for your particular situation. There are a few ways we help patients deal with their sleep apnea problems.
The CPAP is a nasal mask that is designed to constantly deliver air to the patient via the nasal passages. This system keeps air moving through these passages so you can sleep soundly without snoring interruptions, thereby keeping the nasal passages completely open. It fits comfortably over your mouth and assists in helping your breathe during the night.
If you thought it stopped there, think again. We also offer an alternative treatment that may very well be even more effective than the CPAP. We also offer custom dental appliances that keep the tongue or lower jaw bone out of the way so you can breathe easily. It's the latest and greatest product for patients that don't want to be under the knife. Snoring is no match for these state-of-the-art devices, and you'll start to see results soon.
Ready to Be Snoring-Free? Make an Appointment
There's no reason you should suffer from snoring any longer than you already have. Take back your nights and treat your snoring with a highly-effective snore guard treatment. To fight sleep apnea, Claremore, OK residents are encouraged to visit us for more information. We welcome all patients throughout the area, including Justice, Sequoyah, Valley Park, Foyil and beyond.