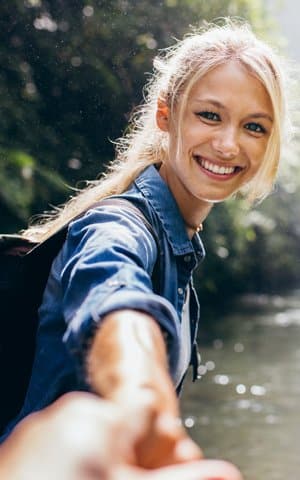 In times past, the only option for straightening teeth was to be fitted with a set of metal braces. Thankfully, the world of cosmetic dentistry has never stopped expanding. Thus, patients are now able to benefit from a more convenient and discreet way of adjusting their teeth: Invisalign clear aligners. As an adult, you may be wondering if the procedure will work for you, though. As you read further, you'll find out the answer and learn how Invisalign can help you achieve a gorgeous new smile!
What is Invisalign?
The Invisalign method of bite correction consists of a series of clear, BPA-free plastic aligners that are custom crafted using the latest in 3D software to develop a smile plan. The innovative technology allows a dentist to perfectly map out the treatment process, and he or she will then send it to a certified Invisalign lab that will fabricate a complete set of trays. You'll wear each set for two weeks and then exchange them for the next progression in the series.
Typically, with Invisalign, the treatment time is shorter than the traditional braces method, but first, you have to make sure that you're eligible for the procedure.
Does Invisalign Work for Adults?
If you're like most adults, the thought of wearing metal braces can make you feel like a teenager again. Invisalign provides a way to avoid the awkwardness that most of us experienced during our high school years.
Instead of having to endure metal brackets and wires, you'll be able to enjoy a discreet treatment process. Here are some of the other perks you can look forward to:
Greater comfort
No diet changes required
Less chance of developing cavities and gum disease
In most cases, a shorter treatment time
The ability to maintain your normal oral hygiene regimen since the aligners are removable
While Invisalign is usually an excellent option for adult bite correction, there are certain criteria that must be met.
Qualifying for Invisalign
To be eligible for Invisalign, you'll first need to have excellent oral health. Therefore, you won't have to worry about an existing issue getting worse while you undergo treatment.
During your initial assessment, your dentist will also evaluate the severity of your bite issues. In some cases where there is severe malocclusion (poor bite) or crowding, metal braces may be a better option.
The best way to eliminate any guessing, though, is to visit your dentist. If you qualify, then he or she can map out the perfect Invisalign plan to help you achieve the smile of your dreams!
About the Author
Dr. David Chun is a graduate of the Loma Linda University School of Dentistry. He has received an additional 500 hours of continuing education, which includes advanced certifications in Invisalign and other forms of care. Dr. Chun uses Invisalign to create gorgeous new smiles for adults at Flawless Smile Dentistry, and he can be reached for more information through his website.