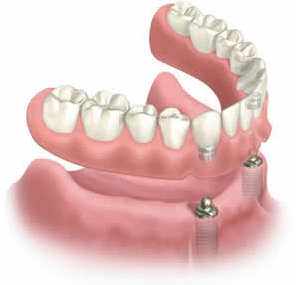 Dentures are one of the most widely used tooth replacement solutions available. While they are capable of restoring the look of your smile, they do little to improve your overall oral health or give you a confident smile that will last decades or more. If you're tired of wearing these removable prosthetics, let a local dentist explain why All-On-4 implant dentures are a great alternative.
I'm Tired of Dentures: Common Complaints
Over time, dentures can become difficult to wear or even an annoyance. From changing facial shape that requires relining of your dentures to continually needing dental adhesive to keep your prosthetic in place, there are many reasons people get tired of wearing dentures.
Some of the most common complaints include:
Improper fit: Soreness, swelling, and pain in the jaw and mouth can result from dentures that don't fit well in your mouth.
Unnatural appearance: Depending on the materials used and the skill of the technician crafting the dentures, they can appear too white or have the wrong shape or size.
Difficulty chewing: While there is an adjustment period when first receiving dentures, you could have difficulty chewing. This can be caused by improper alignment.
An Alternative Choice: All-On-4 Implant Dentures
If you've been wearing dentures for a while now, it's likely that your jawbone may be weakened in some areas. For individuals who want to make the switch to an implant-retained denture, this might seem impossible because the bone must be sturdy and stable enough to hold up an implant. Fortunately, there is another solution that makes it possible even if the jawbone has deteriorated.
With All-On-4 implants, your dentist will perform a visual exam as well as use a CT scan to look at your jawbone. After creating a personalized treatment plan, he will use four implant posts to place in the thickest part of your jaw. This eliminates the need for a bone graft or sinus lift procedure.
Once your posts are in place, a custom-made denture will be put on top of the posts, effectively restoring your smile while you heal.
What Are the Benefits of All-On-4?
Some of the most well-known benefits of All-On-4 dentures include:
The entire procedure is completed in one day
Regaining nearly 70% of your biting force
Completely natural look and feel
Improved appearance and a boost in confidence
A 95% success rate for placement
Improved oral health, as the implants preserve your jawbone density
Easy to clean and maintain
No need for pre-implant dental surgery
Cost-effective, as your implants can last decades or a lifetime
Don't let the idea of wearing dentures the rest of your life get you down. Know your options and take the time to talk to your dentist about switching to All-On-4 implants. You'll be seeing a healthier, more beautiful smile in no time.
About the Author
Dr. Ali Torabi studied zoology and went on to achieve his bachelor's degree from the University of Central Oklahoma before completing his Doctor of Dental Surgery degree at the University of Oklahoma. Dr. Torabi and his staff want to help you reach your smile goals, so whether you need a general cleaning or an alternative solution to traditional dentures, they can give you what you want, especially when you need it most. Contact us at (918) 342-4444 to find out more.